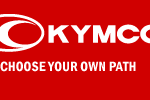 Kymco is a Taiwanese scooter company that was founded in 1963. It is the largest scooter manufacturer in Taiwan.
Kymco is a manufacturer of electric scooters and bicycles. One of the more popular Kymco scooter models is the People 150.
This scooter offers 55-100 miles per gallon and costs roughly $2,800. However; it's a great deal more powerful than the Vespa, which is perfect if you either want to move faster, or you expect to be going up hills. The Kymco has about the same amount of space and is about the same size as the Vespa, so either one is a great choice.
Kymco Scooter
Find a local Kymco dealer.