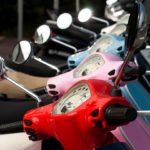 Whether you are an experienced scooterist, or a newbie, why not check out the latest and greatest scooter models at your local Missouri scooter dealer?  Or Better yet, schedule a test drive!  Distance: If you're going to buy one then you're going to have to transport it. Transporting a scooter costs money, especially if you have to rent a trailer. Make sure you calculate this cost into the overall cost of the scooter. On the other hand if you have your M class license and you go to a MO scooter dealer, you could drive it off the lot and straight home.
Scooter Dealers in Kansas City Metro Area
Reno's PowerSports
Reno's carries a full line of Yamaha, Wave Runner, Can Am ATV, Spyder Roadster, Commander, Sea Doo PWC, Aprillia, Vespa, and Piaggio. We are a full service dealership with parts, accessories, motor clothes, and riding apparel. We offer full service, maintenance, repair, and performance equipment for your machine. How do we stay small and sell big? It's simple: years of experience. At Reno's Powersports, Inc. our mission is to offer you the latest in parts and products, at the best prices, and with unparalleled service.
Scooter Dealers in the St. Louis Metro Area

Donelson Cycles
   Our experienced parts, service and sales staff are ready to serve your motorcycle and ATV needs. Customer satisfaction is our first priority at Donelson Cycles. We look forward to serving you soon.
Parts Availability: If you buy from a local scooter shop in Missouri then you can call them at any time to have parts serviced or replaced. If you purchased your scooter elsewhere then it's going to be a bit more of a hassle. Local scooter dealers will have the parts you need because they sell the scooter you bought. Usually a company will be more likely to keep parts in stock, or be able to order them for you on short notice.
Support Your Local Economy: Did you know that your local shop is likely owned by a small business? If you want to support your local economy, put money back into your area and improve your area then purchasing local is the way to go.
All Missouri Scooter Dealers
| | | | |
| --- | --- | --- | --- |
|  MO Scooter Dealer |  Phone Number |  City |  Scooter Makes |
|  Advantage Powersports |  816-421-1515 |  Kansas City | |
|  Approved Automotive Powersports |  573-642-4447 |  Fulton | |
|  Big St. Charles Motorsports |  636-946-6487 |  St. Charles | |
|  Brad's Scooters |  636-946-8222 |  St. Charles | |
|  Brookfield Auto Sales & Service |  660-258-7309 |  Brookfield | |
|  Dell's Powersports |  816-229-0300 |  Blue Springs | |
|  Dick's Cycles |  660-826-1553 |  Sedalia | |
|  Donelson Cycles |  314-849-1830 |  St. Louis |  Yamaha |
|  Fenton Power Sports |  636-533-0486 |  Fenton | |
|  Fort Awesome Powersports |  417-532-9253 |  Lebanon | |
|  Flying Tiger Motorcycles |  314-645-7425 |  St. Louis | |
|  Honda of the Ozarks |  417-862-4686 |  Springfield | |
|  Jim Trenary Motorsports |  800-748-8098 |  Washington | |
|  Jones Honda |  573-875-4447 |  Columbia | |
|  Kiss My Gas Scooters |  417-863-9600 |  Springfield | |
|  Larry's Motorsports |  573-893-3209 |  Jefferson City | |
|  Lincoln Powersports |  314-356-1281 |  Moscow Mills | |
|  LSK Lebanon |  417-588-3550 |  Lebanon | |
|  Mega Motorsports |  888-998-9323 |  West Plains | |
|  Midwest Sports Center |  573-756-7975 |  Farmington | |
|  M & M Motorsports |  816-358-8500 |  Kansas City | |
|  Moto Europa |  314-534-3410 |  St. Louis | |
|  Mungenast Motorsports |  855-585-7147 |  St. Louis | |
|  Powersports of Joplin |  417-623-4661 |  Joplin | |
|  QC Moto |  417-862-4343 |  Springfield | |
|  Reno's Powersports KC |  816-942-8900 |  Kansas City |  Vespa, Piaggio, Aprilia, Yamaha, |
|  Rich's Cycle Center |  314-631-1300 |  St. Louis | |
|  Rockroad Scooter Company |  314-942-3200 |  St. Louis | |
|  Scooter Dave Motorsports |  417-359-3926 |  Joplin | |
|  Scooter Folk |  417-454-5039 |  Neosho | |
|  Scooters & More |  417-726-5322 |  Joplin | |
|  Scooter Town |  417-389-1891 |  Neosho | |
|  Stahlman Powersports |  573-364-3964 |  Rolla | |
|  STL AUTO |  314-282-5550 |  St. Louis |  New & Used Sales |
|  Super Scooters North |  417-865-9500 |  Springfield | |
|  Super Scooters South |  417-881-9966 |  Springfield | |
|  SEMO Motor Sports |  573-243-9962 |  Jackson | |
|  Springfield Powersports |  317-862-4343 |  Springfield | |
|  St. Louis Powersports |  636-385-6300 |  St. Louis | |
|  Super Scooter Shop |  417-865-9500 |  Springfield | |
|  Yeager's |  660-826-2925 |  Sedalia | |
|  Youngblood Powersports |  417-582-1065 |  Ozark | |
Repair and Maintenance: Another thing to consider is that you should be able to take your scooter back to the local dealer at any time for a repair. If you purchased elsewhere then you're going to have to travel just to have your scooter repaired. A local business will be faster, more reliable and cost less money. Usually a scooter dealer is the best place to have yours repaired because they are more likely to have the expertise you need.
Scooters in Missouri
Expertise: Last but not least, a dealer will be someone that you can visit or call at any time for help with your scooter. Whether you want to know where to get modifications, how to get your M class license or just know more about the industry, benefits and lifestyle, chances are you can find the information at a local Missouri scooter shop.
The confusion between mopeds and scooters is prevalent because both bikes are lightweight model motorcycles and over time, many of their characteristics have become interchanged. Today, both are very similar in appearance and style, and even manufacturers may sometimes confuse the two titles. As a rule of thumb, just choose a model based on what you want to use it for.
Choosing a motor scooter should involve research based on the capabilities and options presented by the bike as well finding the right scooter dealers. Setting a budget and sticking to it can also help buyers to choose the bike they want without going over the price they can afford. Usually what the scooter will be used for, such as driving between work, or driving for fun, or transporting groceries or etc. should be used as a major determining decision before choosing the bike. Many scooter companies offer multiple models so make sure that you check out your options, compare prices, and research your needs before a purchase.
Things to look for when purchasing a used scooter
There are several things you need to see and keep in mind before purchasing a used motor scooter. If you don't have enough knowledge about its repair work and parts, we prefer you to buy a new scooter. Or if you've someone who is a professional in such field than you can ask he or she about its necessary components and facts that should be kept in mind before buying a used one. Let's have a look at some facts that should be focused before purchasing a used scooter.
First of all, start with its Engine. Will it turn over? If it does, but somehow it doesn't start, it could be a problem with start of the fuel. Take the gas top off and have a look inside the tank. In the event that it's corroded the crab is most likely stopped up and needs a proper cleaning, as will the gas tank and fuel lines. Take a look at the motor, are the motor parts split, or canvassed in oil and slop?
Secondly, check its electrical and cable, check for start by evacuating the fitting wire and putting a screwdriver toward the finish of attachment wire and hold it close to the start plug, kick it over and search for a start to bounce from the screw driver to the attachment. Check the miles on the speedometer. Does it coordinate the wear and appearance of the bicycle? Verify whether the speedometer link is associated. Take a gander at the links and levers, do they work easily or do they tie and are corroded?
Scooter Clubs in Missouri
Springfield Vintage Scooter Club         30 Days Scooter Gang
Going down to alignment, rectify the front end, and afterward go to 8 feet before the bicycle, hunch down and look at the front forks. They tend to be straight and even. Sometimes, the handlebars might be bowed and may make the forks give off an impression of being aligned by sight. Check this twice by sitting on the bicycle and looking down at the position of the tire when the bars are straight. If the bicycle works and runs, check on its performance, that after completely warmly up how it works on ground level and slopes. If you hear a screeching sound, it might be a problem of brakes. Does it swing or bubble while driving? If it does, then it could be matter of front wheel alteration.
Some signs that you don't have to ignore and can be bad for you, if it shakes than it could be due to bad tires. Carefully listen to the engine internal voices. Make sure you discuss its history with the dealer after your test drive. After some moments, look down and around the scooter body, make sure it doesn't have serious damage seals like, fuel tank, crank seals or transmission seals. Then start it again, check the voices that come while you start it and how smoothly does it starts? How does it appear? Isn't it painted again due to some accident or anything? Does it have any damage repair on its body? Look for the damaged parts. Make sure it is well maintained, and you aren't being charged for a useless piece of trap.
Last but not the least make sure that it has all the legal registration papers, isn't stolen or charged for some robbery. You can see it details through online sites, its registration ids and various stuff. You can go to the police station of its respective area and have details from the Sheriff. Look for the whole market for its rate and don't just stick to one dealer, go have a look at various dealers so you might have an idea about the price.
Check out: Montana scooters
MO Scooter Laws
Scooter laws vary from state to state.  For more information about scooter laws and licensing requirements in the state of Missouri,