ScooterDealers.com allows you to search local scooter dealers and companies.

Motor scooters are famous around the world and are useful for getting around. People enjoy motor scooters for a wide variety of reasons and among those are personal entertainment, transportation, and concern for a loved one. If you're looking for a motor scooter, you can choose out of the most popular companies to ensure that you get the best deal, or the best scooter. Click on the links below to check out more info about these top scooter companies.Thinking about buying a scooter but don't know where to shop? Most people suggest that you buy local to save time, have extra conveniences and of course, save money. While it is sometimes possible to find slightly better deals if you shop around in a larger area, chances are it won't pay off in the long run.
Scooter Dealers               Scooter Companies              Mobility Scooters
There are a couple of reasons you might want to consider shopping local for your scooter. While your local scooter dealer might be small, they're probably operated by friendly individuals that you can get to know so that you can make a better decision about choosing the right scooter. Have a talk with a representative about what you want, what you're going to do with it and see what they recommend. If you're shopping local then you have the advantage of buying from a company that knows the local terrain, any problems that local scooters have with area's or pretty much anything else.
Motor Scooters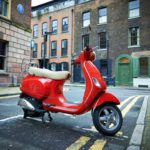 As the price of gas at the pumps remains stubbornly high even during the winter months, an increasing number of people are switching their mode of transportation from cars to motor scooters. With some getting as much as 110 miles per gallon and prices of scooters significantly less than cars, they are an economical alternative mode of transportation. For those looking to purchase a motor scooter, there are some guidelines to assist in choosing the right one for your needs. It is always a good idea to test several different models to find what works best for you.
Gas vs Electric: While electric are more environmentally friendly and less noise than gas scooters are, their top speeds are usually no more than 25 mile per hour. Additionally, electric scooters do not have the power to make it up steep hills. This means electric motor scooters are suitable for congested urban high traffic areas on flat terrain where speed is no a requirement.
Support your local scooter dealer
Urban: For those looking to purchase a gas-powered motor scooter suitable for urban use, a scooter with a 50cc engine is a reasonable choice, especially for small framed individuals who want a lightweight scooter. These scooters tend to have the best gas mileage. Their top speed ranges from 30 to 40 miles per hour; however, they do not do well in urban areas with steep hills. Additionally, heavier individuals night want to consider a 150cc scooter since the speed of the scooter decreases with an increased weight load.
Scooters for Hilly Urban Terrain and Suburban Areas: For people looking to make local commutes, 150cc motor scooters are a good choice. They average about 70 mile per gallon and their top speeds range from 50 to 60 miles per hour. For most people, motor scooters in this range have adequate power to make it up most hills. While these scooters can be used for brief highway trips, they really do not have enough speed to ride on high-speed highways.
All Purpose: For those looking for a scooter suitable for all terrains and able to handle the speeds of highway driving, a 250cc motor scooter is the best choice. While many in this range tend to be heavier than their counterparts with less power, it is possible to find 250 cc motor scooters that are lightweight. While the average speed in this range is 75 mph, racing models can go significantly faster.
Motor scooters are gaining popularity because of their reasonably prices and savings on fuel economy.
When choosing between which scooter to purchase, one of the most important different is the size of the engine. A 150cc scooter not only boasts a larger engine, but usually a larger size as well which means that there are noticeable differences between riding one model over the other. In addition to how they perform, there are often different laws that apply depending on which one you decide to purchase.
For example, many states waive the need for having a cycle endorsement to operate scooters of 50cc or under which means quite often no licensing or insurance requirements. However, that does not mean they are totally safe vehicles.
Scooter Repair 
Scooter Engine Power: The most obvious difference is the sheer power that the additional size of the 150cc engine offers as compared to the 50cc. You can certainly feel the power when driving the scooter as it has a larger engine, particularly when going up hills. The additional power may be better suited for adults and those who like to carry additional items with them while riding without having to tax the engine.
The power difference is most notable when going up hills as 50cc engines may be hard pressed to make it while 150cc engines have little difficulty at all. The more weight you carry, the more it affects a 50cc scooter as compared to a 150cc scooter.
Scooter Engine Noise: Another difference that will be noted when you start up the scooter is noise level as compared to the 50cc model. Although each may have a muffler or sound damping device, the 150cc is normally a louder engine thanks to its additional size and horsepower of the engine itself. However, it should be noted that the noise difference is not enough to make it a nuisance to your neighbors as it is no louder than an ordinary car engine with muffler, but you will need to hear it yourself before making the purchase.
Motor Scooter Speed: Interestingly enough, the speed difference may not be as great as you might imagine depending on the design of the scooter itself. Scooters that are designed not to exceed certain speeds may fall into a different category of vehicle for the purposes of state rules and regulations as well as insurance purposes.
Keep in mind that taking a scooter driving course is recommended for everyone who has not ridden a scooter before whether it is 50cc or 150cc. This is because the greatest danger to the rider is not the speed of the scooter, but the oncoming traffic so you will need to be aware and skilled enough to avoid potential accidents when at all possible.
Before you make your choice, you should know what you want from the scooter itself. For 50cc scooters, they are perfect for short trips in the city when going 25mph is perfectly fine. However, if you plan on travelling further distances, going up hills, and carrying groceries or other items, then you'll want a scooter with a larger engine as it offers greater power to get you through these challenges.